by Sara Wesche
You've made it to the short list and now it's time for the final presentation to a room full of decisions makers. But, the real decision-maker in the room is not a person.
You're really selling to a 3 pound organ called the human brain. And as complex and amazing as it is, the process it uses to make a decision is both primitive and predictable.
When it comes to decision-making, there are two basic parts, and they can be categorized as either an influencer or the judge. You might be surprised to learn that neither logic nor emotion are the judge. They're influencers, offering support for really big decisions, some of the time. The real judge is the "instinctual" part of the brain, the limbic part. Its everyday job is to eliminate threats, pains and fears.
What's amazing is that about 90% of our daily choices only happen in this part of the brain. They're the sort of things we do all the time, like braking when a light turns red, tying a shoelace that's come undone, or avoiding a hornet flying near you. For the other 10%, the limbic part of the brain makes its move first, and then logic and emotion come in as backup support. You can't avoid it; every human decision, including whether or not to buy from you, begins with an assessment of threats, pains and fears.
What We Know About the Brain
Process - Most sales people present in a way that conflicts with our brain's decision-making process, citing facts and figures and features and benefits. As hard as it might seem, you need to flip it upside down, and talk about pains, threats, and fears first.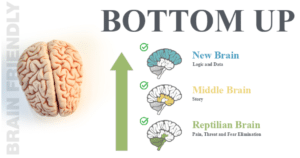 Speed - With 90% of decision made on autopilot, you must make it easy and fast for your prospects to say "that's it!".
Emotion - You must create emotional lift to spark commitment. Emotions are the trigger to decisions.
So, How Do I Present to the Brain?
#1 - Develop Your Three Convincing Why's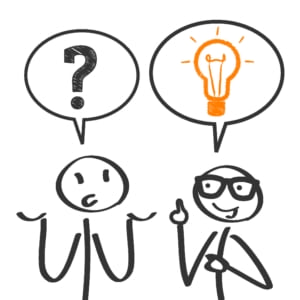 Find the two or three ways you solve your prospect's pain. Prove them over and over and you create alignment with your prospect's entire team, each member able to remember and recite how you're different and why they should buy. Those two or three reasons answer "Why should they do business with you?" We call them Convincing Advantages™.
Well-crafted advantages that are unique to you, focused on your prospect's pain and relentlessly proven, make it easy to communicate, easy to remember, and easy to apply - along every step of the sale.
#2 - Stop Talking About Yourself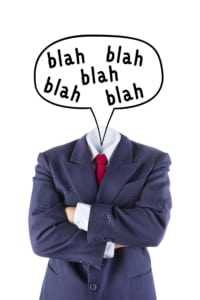 "We have over 100 years combined experience on our team..."
"We've been a local resource for two decades...."
"We are trusted by over 10 of the Fortune 500…"
Do not start your presentation by talking about yourself. The brain does not care you are 100 years old, that you love your customers, or that your astrological sign is sagittarius.
So many presentations lead with facts and figures, trying to win with logic, features or benefits, keeping you in the "wants and needs" part of the brain. We now know real connection happens below that line, at the subconscious level.
#3 - Focus on Solving Pains and Eliminating Threats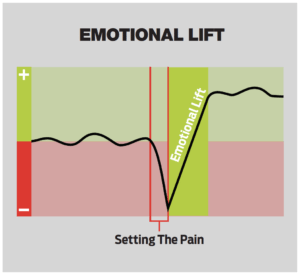 Your prospect's brain needs to hear how you're solving its pain first. During your presentation, start by setting the pain and showing resolution. This is called driving emotional lift. That last movie or book you enjoyed? It was a great example of setting up a pain or threat and then giving you the same kind of emotional lift through its resolution.
Your presentation doesn't need Hollywood special effects, but it can make the pitch better if you follow the formula. Each pain you address must be quickly countered with its resolution–your product or service. Then, back it up with solid proof. This engages the right part of the brain–the limbic brain–first, then gets the influencers–emotion and logic–to stop by and agree.
Win More Sales with A Better Pitch
You can't show up and look the same, act the same, and say the same things as your competition and expect to close the sale. You have to win the brain to stand-out and differentiate and carry the room to close the deal. You can start winning more deals with sales presentations that actually engage your prospects and position you as the only solution.